PEPSI NATAL DAY PARADE - 2019 APPLICATION PROCESS NOW CLOSED!
DOWNLOAD 2019 PEPSI NATAL DAY PARADE REGISTRATION PACKAGE
DOWNLOAD 2019 Natal Day Parade Route in Downtown Dartmouth – Monday, August 5, 2019
PLEASE NOTE: Due to the required construction on the MacKay Bridge in 2019 the Macdonald Bridge is not available this year for the Natal Day Parade from Halifax to Dartmouth or any other Natal Day bridge events. The Halifax-Dartmouth Natal Day Committee has returned to the Natal Day parade route in Dartmouth for this year, which provided a successful alternative when the Macdonald Bridge was not available in 2016. The Natal Day Parade, the annual HHB Bridgewalk and the MACPASS Miles will return to the Macdonald Bridge in 2020. Please review the application carefully for all parade times, details and information. Thank you.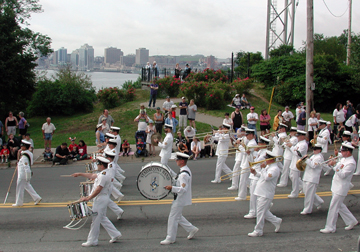 Presented by The Chronicle Herald
Monday, August 5th, 2019
For more information & details on the 124th Annual Pepsi Natal Day Parade please contact Cameryn Evans, HRM Civic Events at 902-490-6773 or at evansc@halifax.ca
* * * * *
"Celebrating its 124th year, the Parade Application & Route Map for the PEPSI NATAL DAY Parade presented by the Chronicle Herald is now available upon request as of Monday, May 27th, 2019.
* The parade will take place on Monday, August 5th beginning at 10:30 AM sharp.
* The location of the parade dais is the Intersection of Alderney Drive & Ochterloney Street.
* All entries should arrive NO LATER THAN 9:30 AM - This will allow an orderly line-up with the assistance of our Natal Day Parade Marshalls.
* Please respect Parade Marshalls, as they are volunteers.
* It is our intention to start the parade at 10:30 am sharp and be at the finish by 11:30 am. To this end we will have three mobile Parade Marshalls along the route who may ask you to slow up your pace or speed up your pace.
* The purpose of the parade is to have fun and promote yourselves along the parade route, following the rules in the parade registration is important in order to guarantee everyone's safety and enjoyment at the parade. However, entries who chose to ignore those rules will be removed from the parade by a Parade Marshall.
* Near the reviewing stand (final location still TBD), water will be distributed to 'walkers' in the Parade without stopping. Others are encouraged to have water in their parade vehicles for their own use as required and what the temperature dictates.
I wish all of you a safe and enjoyable parade experience and thank you for your support of this annual tradition. The parade takes place rain or shine.
Cameryn Evans - Civic Events & Pepsi Natal Day Parade Administration Marshall at 902-490-6773 or evansc@halifax.ca